Time has moved on , Two years down the line
we are all missing M ( Maureen )


The new website for Rochester sq Temple

So this is it

www.http://rsst.vpweb.co.uk/about-us.html

I know Maureen would want me to

Rochester sq temple is closed

Due to health and safety





at this moment in time I am terribly upset as the Temple no longer wishes for me
to be a part of the establishment even though I have been here for many years.
I have also been healing within the Temple and was Healing leader as well with
a lovely band of healers within this place of energy of love.

Now so much I have given becomes nothing, the one's that I'm sorry for
are the patients who come for the healing , and the guides and the band of healers
who come from the realms of spirit. To administer there love.

Once again this is out of my hands,

The real hurting point is I was informed by Andreas that I would be able to
continue healing in the Temple after the passing of Maureen to spirit
I was also asked to find a picture of M that would be displayed after the
redecoration of the Temple. And that the SNU organisation were going to place
a plaque up in the Temple under M's picture.


So I bought a frame and placed her picture within the frame, and I have taken this to
the Temple ( I was looking for a picture that would unite the two of them together
M and the Temple which I found after much searching
Check out the picture of M in photo Gallery ..... ?
I have now been informed that Andreas has said they are not going to hang a picture
of Maureen within the temple.

Expelling me was hard for me to take within and I cried, but the work of spirit is love
and that's all I give I ask nothing in return. But this is not the way to treat M who gave
all and everything to with energizing love, helping many to understand the love of spirit,
or everyday life where problems arise within one's life. She would llisten to anyone's problems
and help others.What away to treat someone with so much to give to others, and ask nothing
in return for herself. Within the Temple Maureen's energy will always be,
no one can ever take that love or match it.



Well M is missed by each and all, a void has been left within the earthly plane, the
Temple is changing with different energy flowing through with many ideas
from those within. May they be the thoughts of keeping these doors open, for
others to find the light of god the spirit of life. and knowledge and wisdom, which embraces us

Soon this site which is part of the Temple of Rochester sq will close, Im sorry
about this but it's out of my hands as there will be a new one someone
is going to put together

The structure of this site will change it will not have anymore conection
to Rochester Sq Temple, this site will be rebuilt and renamed

Those who wish to contact me my no: 0207 435 7446

or see the E- mail below
this site will continue if you the people want it too with. Wisdom, and poems, stories
also thoughts from M as the progression of light grows within Maureen
Healing page will continue. if you have anyone you know that needs healing thoughts
E mail me and I will add there names, we also have a healing page for animals to
If you have spiritual photos, and stories , send them to the e mail address below


E mail me at davidchapman1951@googlemail.com ORstarlight.1951@hotmail.com
so let me know how you think love and light David


I thank each and all for there healing thoughts and love to Maureen when she was ill
Now M is flying high in the realms of spirit helping others as M unfolds along her path
of light and love



M from the light

The world of spirit is light, with so much love
I have met up with all my family and some friends
In the realms of spirit all that one does in love
Blends the energies of spirit towards perfection .

I am around you all many of you have experienced my
presents Also the love which has come from you all,
has and is still helping me along my pathway to more understanding of the world of spirit

Jim was dressed as what he is North american Indian
was there waiting to help me over to the light, with my Grandmother and Father... I have been around home
moving things and making noises For dave to know
I'm around, he's been so busy with the work of spirit
Going to different churches, I was there to see him
working, at Hackbridge Two people saw me and after
the service relayed this to dave which was nice.

I am with you all always
May the light of spirit be the way forward to you all.




M's thoughts

I am enjoying the love which emanates from the realms of light, I am still with you all
There are many who felt my energy, and have seen me within the hues of colours .

I have been to the park with the children, so many and there love embraces me, as wave of serenity
And peace. So much Beauty in the vibration which forms

Blessing to you all from the light of Spirit which dwell within you.



From M


Maureen would like to thank all that came to her service, and those who could not make it. For her Transition to the high life, Bless you all the energy was unbelievable.

The service was incredible It was nice to see so many faces, and the Temple full and people standing, how magical and moving so many souls of love gathering for me, I am touched deeply thank you all .
The colours where as a sea of flowing love blending thoughts ebbing from each of you,
blessing of the Great Spirit be with you all, along your Journey of unfolding spirit light and love.

The Crematorium was just the same full and brimming as people stood around as there was no seats
So overwhelming, and Neilie with words of love spilled from the poem as they were spoken , they flow with meaning and love, as if they where floating within in air.

Blessing to all I will be around Love Maureen




On earth for my Transition it was raining men I danced in your energy of love
In spirit it was raining Angels and Im enfolded in there light.



Update Feb 1 09

When one is like a roll a coaster it very hard to understand the way of the life of someone,
M is like this at the moment. But we still have her with us, and at home.
The virus has now gone, and we are trying to keep it that way.

There was a time when M was so bad we were waiting for spirit to come for Maureen,
But she has strength and will power to carry on which is unbelievable and she does not
won't to go home . ( I know the love you are all sending is helping,
through the healing rays of the light of God )

Me I thank God for letting me have this energy of love for awhile longer,
and pray it will continue.

Healing is the way forward, so friends, may your light expanded with the rays of colour.



Update Jan 15 09

M is back in hospital, the infection seem to have pulled her down,
This is not good, well they have managed to get M temperature down
and are giving Maureen antibiotics but she is not with it in her mind
We are praying for her to turn this around.


Update Jan 20 09

M has turned the corner and fighting the virus within her chest
She has a goal to reach,for there is a holiday coming up by the coast
M is looking forward to this, even though M is still not secure on her feet
Very wobbly like jelly but won't give in
Please keep sending your thought's of love and healing I thank you all
God's light be with you all


Update Jan 09

Well this is a new year, and we look forward to a better one in the understanding of God
where the healing thoughts emanate from with love. Gods light is with Maureen, she
is still managing with difficulty to walk around the flat with a stick. But as with this illness M
is finding it very hard too breathe, at night she can't sleep through the night.
Some times this can be freightening thank God for the little blue tablet,
which seems to help Maureen regulate her breathing.

So very weak a picture before my eyes with colour fading so sad see, but still M won't give in
Even when she falls over, some how the strength is given to her to climb to her feet.
From the light of God, this is the strength and will power of Maureen.

We still need your thought of healing and love .
Bless you all for your healing love..
God's light be with you all





Update Dec 08

Maureen is very ,very weak as I speak. lost within her mind, this is so sad, M has come down with a bad chest infection and is now in the Hospice. fragile and finding it hard to breath, life is strange and can be very painful with the images of those fading before you

She is trying to eat but that is now an effort and is looking like spirit is calling her home.
But M's will is strong, the one thing that seems to bring her to some sort of life, is
a cigarette ? this I can't get my head around, free will I know we all have free will, is
that why there are wars and destruction all around ?.... someone said why not what
elese is there at this stage of life?

Well back to M the infection has cleared up with antibiotics which is the good news, but two days on the infection is back and that is were we are now, M is receiving healing
through all who are sending and I thank you all, to those that come up to Hospice
giving their time and energy in healing I thank you too

Gods light is that which love is given may gods light continue to be given



Raimondo workshop

Spiritual Elevation

The day began gently but powerfully with a wonderful Lotus flower meditation, that
worked on opening the chakras. We were asked to visualizes a beautiful lake with a
lotus floating towards us on the tranquil water and to visualizes the colours
corresponding to the chakras system glowing within the centre of the lotus
as we concentrated on Satraimondo's voice which had an almost hypnotic effect
we were led deep into meditation.

In Buddhist tradition the lotus is a symbol for our potential, like a flower that grows
from the mud and blossoms on the surface of the water, we can rise out of our mud
( sufferings) and flower like the undefiled perfected lotus.

We learnt how to sense a person's aura and how to notice any changes in the aura
after we had given a type of japanese healing called "Jyorei".

A Tantric practice was learnt in which seated opposite our partner with our palms
outstretched we repeated the phrase: " The God in you sees the God in me
The effect was quite profound and extraordinary and difficult to put into words,
but we were directly addressing and giving recognition to the divine being that
resides within each and everyone of us.

Satraimondo likes to give thanks continually to God, the Universe and all of Creation
at the end of the workshop Satraimondo bestowed us all with a personal blessing,
and humility throughout it was truly an honour to receive his teachings. All those who
were in the presence of Satraimondo could not fail to fell uplifted and inspired by
the manifold ways in which we were shown that we can honour God.

Check out Photos in this site you will be surprise with one photo ?


Melody Boon






Update Oct / Nov 08

We are still worried about Maureen, she has been very low in health, M strength is very weak.
Your preys are so welcomed thank you all. Maureen is sleeping through the day, and some times it becomes hard to wake her. She looks so peaceful and so serene, thanks to spirit and you wonderfully people for your love in healing. M is not in much pain at this time,

Carolyn has been a tremendous help with M, With especially giving her medication to her, also helping Maureen to find the strength to carry on within this earthly world. M is up and down at this moment M's breathing is erratic and more then worrying, and frightening, some times I wonder what God has in store for us all, all I know is we tread the path of life unfolding the spirit inside throughout this life's up and downs.



Update sept / 08

M is up and down at this moment in time, we have still not moved from our home. Still waiting on the council for a move, we looked at a few places not very good is understatement to what we where offered
so M is still climbing our steps and is out of breath by the time Maureen reaches the top step...
Breathing is not good at times very frightening

The hospices had now given M a Nebulizersr which will be good, but there is no mask and lead?.. The nurse said they will bring one around for us tomorrow. Which thy did, but the wrong one, here we go again, help...

So M is still finding it difficult to walk some distance, and is now and again in a wheel chair. I often get a right hander from M, because I push the chair so fast.

I must thank you all for your love towards M your healing thoughts are working, I must tell you
on a Friday night around 3-4 pm I was just coming out of sleep state when with my eyes closed there was over Maureen a lovely shimmering rays of blue healing light, which formed around her neck
rising up around M's head this started to change showing white within it, please continue sending .


Event in October 08

Come and enjoy this day of enlightment, with Sat Raimondo ! ! !


Sat 18 Sat Raimondo workshop 10-4pm (Bring pack lunch all day event) £20
Garden entrance



Update Aug/28 sept 1/ 08

M is finding it hard to concentrate with her mind, sometimes it's as if M is staring in to space
and not listening to others. And yet other times she is so alert, I wonder some times why God lets one suffer so, the stair's are becoming an obstacle, which takes Maureen's breath away,
it is like climbing Mount Everest. Also M's sugar level is erratic, and Maureen is very weak on her legs, and finds this unsettling . But life goes on, and with the love all those who are sending healing thoughts, thank you each and everyone.

Well we managed to get away to Scotland ( Fort William ) we had a lovely time, my sister catered for us all, and the air in Scotland really helped Maureen with her breathing. But coming back on the plane Maureen becoming panicky with her breathing, so one of the cabin crew stayed with her and held her hand and gave M an ice pack to put on her neck. Becouse M was becaming hot and bothered. I would like to thank all the staff who helped us through our journey.



Update July 19/28 08

M had a hard time in the Hospice, M was so weak it was touch and go some of the time. Her strength was just leaving M but Maureen would not give in with help of those who love her all her friends, with Carolyn buzzing around making sure that the tablets was given on time, and the right one's because the Nurse's did not know which tablets to give as some of them were stopped and new ones given. Within the first day or two, then things settled down.

Maureen was not eating first of all, this was a worry for us all as M lost a lot of weight, as the days went by, but Gods healing light and of those who are sending thank you for I know this love was received M started to get stronger and steady on her legs, M breathing still not too good. But we have her with us still thank God.

M made friends with one of the Patients name of Phillis, they seemed to bond which was nice.
As the time went by M was helping her new friend fetching this and getting that, some of times when one went to see M she was in the garden with Phillis, and Carolyn. Laughing and joking
which is good, also M is ordering us around and waiting to come out to get back to normal.

Well the time moves on, we now have M home with us, and with the new tablets she's eating us out of house and home, so I must leave you now folks I have to go down the road to replenish the fridge.

Please, Please continue sending out your loving healing for your thoughts are received.






Update June19 08

Maureen has come down with a cold, and is trying hard to overcome this setback. But after a few days is now starting to pull M down and she should be in the Hospice, but
she will not go in, even the Nurse said M would be better of in hospital.
But Maureen's sticking her hills in. We can only give M her medicine and tablets
and nurture her, we cant give M saline drip, or blood transfusion, or check
on M's heart, or produce an x-ray. As the days go by, M is very unstable on her legs
and is having some unsteady movements, in trying to walk in a straight line. Her
breathing is not good as well, the Macmilan Nurse name liz has said to me you need to have some rest bite because my sleep patten is interrupted by lack of sleep . So they sent a Nurse for three nights from ten pm, seven am. Her name was Marget, I would like to thank the people involved in giving me that restful few nights.

Days gone by now after speaking to the Nurse, M has decided to go in the Hospice to have a rest in the Hospice. Which will be the best place for her. Also for Carolyn who looks after M through the day the strain is there for all to see, because Maureen was not eating
and the loss of weight was upseting for her, moving on through the days now, date 23th June M's cold a lot better chest is clearing up but still a little wobbly on her feet. Thank you all who are sending out healing thoughts of love, please continue sending. For those who also come to give healing to M while she is in the Hospice THANK YOU may God bless you

The light of the great spirit embrace this your child M with the rays of healing
Unfold the warmth of colour's vibrating energy in the swelling mingling beauty that forms
As the Angels guard and protect M as this beacon of light which is our love.

YOUR THOUGHTS OF HEALING ARE NEEDED
FRIENDS







































Update May/ June 08

Some good news, friends the Doctor has changed the Tablet which has been repressing Maureen's appetite. And we have already seen an improvement in M with her eating, and over these few days M is looking better. Please continue sending your healing thoughts.
Because the treatment has now stopped from the hospital, so it's just your healing thoughts,
Which are given in love, we thank you all. God bless

M is still very weak on her legs, and is still having to rely on the wheelchair for longer distances. But M is trying hard to overcome the difficulties that keep coming up in life
Her strength is in the love of all who are sending and with God.



Update April/ May 08

Well M is still fighting, but its very hard she's finding her energy being sapped.
and is very trying, but we are all helping to bring M through this. We have just found out that the tablets M is taking at least one of the them is causing some concern, because its effecting her eating order. That's why Maureen is not eating her food, only picking at it, so they are going to change the medication, now they tell us after all this time?

M weight was nine stone six about a month or two ago, is now eight- two , we don't want M to lose any more, so this new medication we hope will stop this situation. Please continue sending out your thoughts of healing love.

The cancer has not spread as I write and I thank God
and the light for the angels of healing two,

Their are so many people around her giving M strength to carry on, also healing from friends who come to our home. Maureen has her up days, and down as well,
those days are sadden days for us all.

I thank all who are sending and the Churches who are praying with there haling prays.
----------------------------------------------------------------------------------------------------------------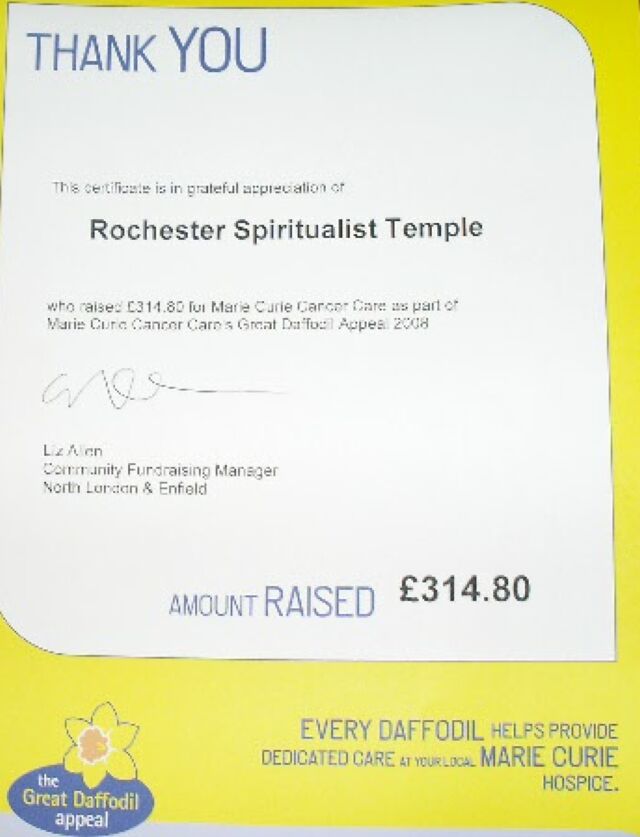 this appeal was raised with great gratification to those who came to support the special evening at Rochester Square Spiritualist Temple who took part in the Great Daffodil Appeal
The Committee would like to thank everyone.
WELL DONE TO YOU ALL !!!!

Ruislip Church we would like to thank Jan and friend's for donating the service, taking's for this special cause.
We have all been touched in one way or another through this illness
If in anyway we can make difference, then I hope we have all helped.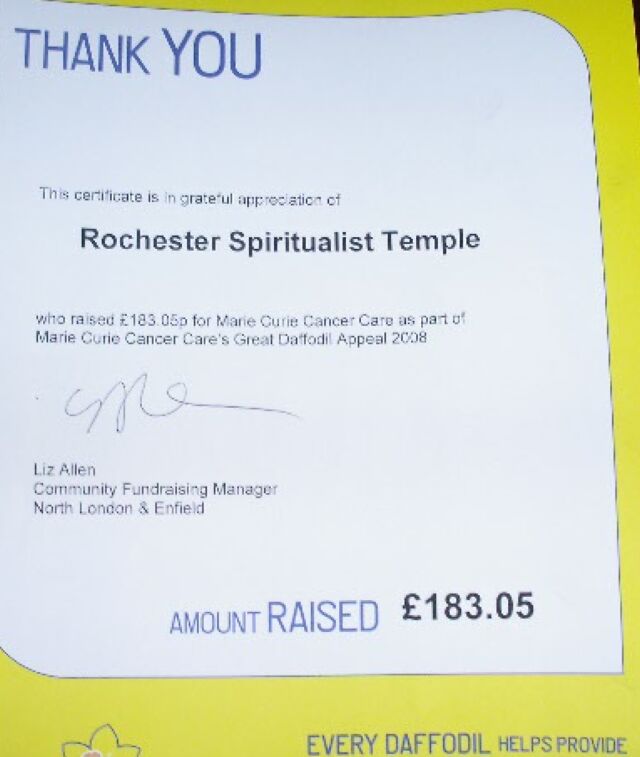 Marie Curie Hospice
We still have a raffle going on until the end of April for a DVD machine, with dvd films ( so we are still helping out the Marie Curie Hospice, so come and buy some tickets there is still time £3.00 a strip )
Wonderful news I would like to thank Ruislip church for the kind donation the night I served at their service, for when the service had finished Jan who runs this church with others came over to me and held my hand and said to the congregation, as you know David's wife Maureen is seriously ill with cancer. So we would like to give all the proceedings to the Marie Curie Hospice I was overwhelmed and had a tear.
We at Rochester Sq Temple would like to thank all who gave in love that night
Friends you raised the sum of £ 183.05
Thank you xxx

Update April 08
We went to the hospital to find out about the scan results, with anticipation and hoping
for some good news, M was very weak from all the Chemo treatment, so as we sat there
the three of us waiting to be called we tried to keep a brave face on this situation.
We where called in and sat down Me, M and Carolyn. They told us
there will be know more treatment of Chemo, as there is no difference in the cancer's growth.
I was told off by the Doctor as I said M is not eating, only small amounts, she said to me
would you like to eat plastic ? then she explained the chemicals within her body
must pass through her system, and the taste of them chemicals Well ?
the Doctor told me maybe in two weeks or so M appetite should come back.
So my friends we are now asking for healing thoughts to be sent out at 10 pm as well as
through out the day in the evening when the energy is the strongest for that is
the healing minute. No more treatment just your love, we go back
in six weeks for a chest x-ray


Update March 08
M is responding well to the chemo treatment, thou very tired the day treatment last from 10 am to sometimes six of seven in the evening. A very long day, I would like to thank Carolyn for the support of being with M through these times and moment's of not knowing if all is well. We keep praying as I know you all are, Maureen's has had four treatments of chemo and thank God no draw backs, one friday M had to have a blood transfusion ( that was an all day event ) she is very weak on her legs, and can't walk far so M has her chariot which we give her rides in and I don't even charge her for the shoe leather. Also M's level of magnesium was down, this had to be addressed which they corrected.
Now we reached the time of CT scan which will let us know more, we will keep you informed to the out come. Please continue sending out you healing thoughts out friends.
--------------------------------------------------------------------------------------
M is now out of that bad situation, where she needed strength and energy to survive. But I'm afraid M is still not strong enough to walk far, and breathing is still out of sync, this is a hard time for us all, but M will not ever think of giving up the battle. So much more for M to do she said I have much more work to complete before I even consider anything to do with giving up on life or the church, she also said to me that before I go I want to go on holiday with you one more time or more than once with just myself and you.
Chemo 25th feb we were worried about M going in for treatment because of the reaction she had last time but thank GOD it all went fine we go in again next monday for more treatment so were asking each and everyone will send out healing thoughts, as I no that each and everyone of you are. We will keep you posted as things progress.
Update Jan 17- 08
Sorry to say that M took a turn for the worsed, with her breathing and found it very difficult to walk, and had to be hospitalized. We found out that M sugar level was very low just two points it should have been six or more, Your prayers are needed M is now in a hospice with all her friends visiting M uplifting her.
Now moving on a few days M is allot better, thanks to your thoughts of love, M is stared to walk , they gave her a frame to use but after trying this decide that M would not use the frame, but have someone beside her when she walked.
Well I'm afraid that M is up and down with her health at this time.
I would like to thank all those who are sending healing thoughts at this time, and also the doctors and nurse's at the hospice who do such wonderful work.
M treatment at the moment has been halted will be a week or so before this will start again ( Gods light be with all who are sending out the healing )
Update Jan 08
We will call Maureen M
Well friends, M is still having treatment at the hospital. a battle we will all fight on with M. At this moment , I would like to thank all that are sending out the healing thoughts of love, please keep this up , the more we pull together in this way the stronger M will get.
Well we had had a lovely Xmas and new year, thanks to Carolyn who invited us for the festive season, and looked after us both. as M who had just come out of hospital, after a painful time, needed care and rest of which M had.
At this moment in time M is finding hard to climb the stairs, and walking up incline pavements with her breathing and is getting very tired. We will keep you informed as to the state of M in a later statement.
Gods light be with you all and thank you once again for the healing.

Update Dec 27
Well as the this year comes to a end with, it's up and down's and, Maureen's fight to grow stronger. Through her illness, we thank each and all who are sending healing thoughts. To all our friends everywhere a happy new year.
We will keep you informed as the year 08 comes to the forefront for our next step, along the path of Maureen's treatment
Special thanks, from those who are close to Maureen especially Carolyn, who I would like to thank from the bottom of my heart. For I don't know how I would have managed without her support.

Update November 19
Maureen was coming along nicely after having this new chemo treatment, the first dosage within the session went well, even though Maureen was tired she was not sick. As one of the many side effects would be that, and also drowsiness. The next session would be in three weeks time, which came within
a blink of an eye.
The second treatment was ten minutes in when all started to go wrong, Maureen went into a fit or spasm and stopped breathing, the doctors and nurses where rushing around. The crash team came flying in, hovering around Maureen and a nurse was calling her name, when thank god Maureen started to respond to the nurse who was gently tapping the side of her face, come back Maureen, come back.
I will call Maureen (M) so, M, was in hospital for a few days having scans and also on oxygen to breath for the first day, M's scan on her head was all clear
this was a great weight off our minds. I thank each and all for the healing thoughts you are all sending, please continue sending that love for M needs this energy at this time.
M will continue chemo but not the one that caused the anaphaliactic shock ( allergic reaction) so next Thursday may your thoughts be with M, from the light of spirit healing is needed
Update November
We have some good news , Maureen is now having Chemo treatment, and has no ill effect thank God and the clot has been removed from the lung.
And also Maureen's is out of Hospital, so now we take one step at a time "or should I say one day at a time".
Please keep sending your healing thoughts out for Maureen.
-------------------------------------------------------------------------------------
Maureen needs your prayers
Friends, please continue to send your thoughts of healing out to those in need,
And I am asking you to send out for Maureen Chapman.
At ten pm every evening. As Maureen is not having any treatment for her illness, for the Doctor would
not go down the road of Chemo at this moment in time. They would like Maureen to have a better quality
of life as you know the drug Tarceva has not worked.
May the light and love of spirit continue with the Angels of healing
Descending healing to those in need.
-----------------------------------------------------------------------------------------------------
Update September 20
We have had a slight set back with Maureen's illness, which seems to knocked us for six. With the love of Spirit and the healing from everyone is helping to fight this cancer, Maureen was taken into hospital on the 20 Sept because she could not breath properly, she was put on oxygen, when examined was found to have a blood clot in her lung. Most of us know what its like in hospital, it can be boring and draining. But, this is the best place to be, when you are in need of medication and treatment. Through this week of uncertainty we waited for news from the doctors that the clot has dispersed, thank God, We would like to thank each all the doctors and the nurse's for bringing Maureen through this crises, Angels of healing were with Maureen as she does not remember Thursday or Friday and what was going on with her, was just a blank in her memory.
The power of healing from the light of God the Divine Spirit of love has given Maureen back to us all.
Thank you
For this light is needed in the Rochester Square Temple to glow and shows so much love to all




Healing Thoughts
Bring to us Spirit of love
The energy of nature as in a bud
To see and grow as the seed of life
To be embraced within that spirit light
As Angels protect with there glowing love
Let healing be sprinkled from the realms above
We thank our family and friends who hold Maureen close to there hearts for that love. Please keep sending your healing thoughts.
Bless all of you
----------------------------------------------------------------------------------------------------


A peek at The Numerology Workshop with Keith Hudson Numerologist/Medium/
Clairvoyant held at Rochester Square Temple Saturday 28th October 2006.
The workshop started promptly at 1.00 p.m. with most of us seated comfortably at small desk tables in the front of the church armed with paper, pens and willing hearts and minds. Once introductions were done, we were on the road to an ancient science of numerology, a study of numbers to gain insight into your personal numerology portrait. Numerology is used to make decisions, when to move, when to travel, when to take or change jobs, when to marry etc., do numbers have vibrations like us? Pythagoras, the Greek mathematician who lived from 470-569 is known historically to be the originator of this teaching of how to change
the letters in your name to reveal much about your personality and potential.
Keith pinned an alphabet code with numbers below them onto the notice board in front of us. We all looked rather puzzled as none of us were too familiar with
the code or numerology so to be honest we were all beginners:-
1 2 3 4 5 6 7 8 9
A B C D E F G H I
J K L M N O P Q R
S T U V W X Y Z
Here is an example: DEAN D=4 E=5 A=1 N=5 = 15 = 1+5 = 6
SMITH S=1 M=4 I=9 T=2 H=8 = 24 = 2+4 = 8
ADD TOGETHER 6+8=14 Now add 1+4= 5
Number 5 is Dean Smith's soul number, this number is derived from his birth name and reveals his inner, private self, the underlying motivations that influence his decisions and actions, his subconscious desires and his most deeply ingrained attitudes. A numerologist could give Dean a reading from this number. Keith said Dean being No 5 was very articulate, good with presenting and his planet is Mercury.
Keith is a wise self taught man who obviously knows most of what there is to know about this subject, he was going just a bit too fast for most of us to grasp the method of numerology so we kindly asked him to slow down for us poor mortals struggling to keep ahead…………..he did and then as he slowly started to explain how to use numbers to learn about your personality the penny began to drop – I think!
For beginners embarking on these workshops believe me you need good concentration all the time, if you let your thought process stray for one minute it is to easy to lose the plot of the numbers, so remember to pay attention and all will be revealed. Keith uses an old established numerology book to support his work and he can almost quote it word for word.
There is much to learn with vowels and consonants involved, planets, personality, destiny, illumination, master builders, tissue salts (homeopathy) angels, ascending masters and much more. I would suggest a college course or treat yourself to a
good book if you are really serious.
Keith proceeded to explain the alphabet and numbers code and how you decipher what your soul number is by using your full BIRTH NAME AND DATE, including second and third names, not your married name, not your deed poll changed name, not any other name or date given to you but the name you were given at birth and that which is on your birth certificate as this is your divine real name and date belonging to you and only you! To use anything other than your original birth date and full name will only lead to a very inaccurate reading.
Throughout the workshop we asked many questions but once we had worked out our soul number Keith gave each one of us a numerical reading and he was right every time, he uses numbers constantly. A small blip occurred when our Italian friend found it difficult to work it out in Italian, as they have only 23 letters to their alphabet, we have 26.
My conclusion is a few hours is far too few to learn numerology properly but you do get as I said a peek of understanding to numerology, especially if it is something you have often thought and want to learn about. It is interesting and different and I am finding more and more people are intrigued and talking about it just as we were eager to hear something new to enhance us and make our spiritual journey clearer.
Well Done Keith!
----------------------------------------------------------------------------------------------------


David, I hope you and Maureen are both fine as we go through this earthly (and sometimes very dense!) vibration together. Hope to see you sometime soon. In the meantime here are two more sites that you may be interested in and to link into the web site.
http://www.zerdinfellowship.com/home.asp
http://www.silvercordcircle.com/
Both are physical mediumship and the second one is the new web site for the circle that Victor Zammit is involved with in Australia.
The first one is the successor to Noah's Ark and apparently the Zerdin fellowship will be hosting the Direct voice/Physical Medium David Thompson (the physical medium of the Silver Chord Circle) in October in England.
God Bless
Trevor
----------------------------------------------------------------------------------------------------

Lyme Bay Holiday Village
Psychic weekend
A group of us had a lovely three day weekend at the end of January, when we went to Devon. Which was organised by Derek Robinson from Wimbledon. It was a Spiritual weekend there were lots of different activities and workshops to
choose from.
Spirit seemed to be helping us to get there as the train we wanted to get we missed, when we got to the station and it
was dark there was not any taxis that we could get and the station clerk thought that we had missed the bus but just as
she said that the bus arrived. The bus driver was very helpful as he could tell that we did not no where we were going and although he was finished before the stop we needed to get off he said to stay on and he would drop us off which he did,
right outside the holiday village. We left our luggage at the reception and went to dinner and afterwards went to find our chalets in the dark, but again seemed to be lead the right way.
The workshops included things like Meditations, Past Life Regression, Indian Head Massage, Crystal Healing and Psychic Surgery.
David Chapman and several people went to a lovely meditation led by Jim from St Johns church in Finchley, it was lovely to see Jim and Polly there as Jim has been so ill.
Maureen Chapman had some psychic surgery and we went to spend some time In the Jacuzzi, which was lovely.
Each night we had a cabaret which was either a show or a comic. And after they played music and we all danced the night away.
David Chapman was doing some private readings and also a workshop plus one night he was one of the mediums who did the demonstration, David was working with Margaret Hurdman and Ivan Lee. Patrick Murray took part in a couple of the workshops and also ended up on the stage giving messages.
--------------------------------------------------------------------------------------
Angels are with each and everyone
Look you will see, believe and you will Know
The feather's will fall
When you are in need
--------------------------------------------------------------------------------------
Here's a website that I am sure you will all be interested in looking at. Fascinating stuff on this site about
the manifestation of Sir Arthur Conan Doyle (so particularly relevant to the Temple!)
http://www.victorzammit.com/index.html
Check out opening statement: My sensational materialisation experiences.
VICTOR ZAMMIT A Lawyer Presents the Case for the Afterlife
---------------------------------------------------------------------------------------
Special evening 2006
Two great nights were held at the Temple on the 27th and 28th September that saw clairvoyance at it's finest and the Temple nearly packed to capacity.
Wednesday 27th we held a Mediums rally with Dave Chapman and friends. The fast paced mediumship of Dave and friends was very entertaining and informative with great links and great humour from both sides of the veil leaving the audience wanting more at the end of a very enjoyable evening.
On Thursday 28th September we were priveleged to be chosen to be the first venue of
a UK tour for Peter Doswell and Margaret Hurdman who were working together for
the first time. The balance of chemistry between them worked really well. Both have strong personalities. Their different ways of working complimented one another. The down to earth approach they give to their work was well appreciated by the audience. There was lots of humour, proving that Spirit works better with lightness and humour. There were also tears as the messages delivered precise evidence to the recipients.
Both evenings proved real evidence of survival as messages were delivered from loved ones in the world of Spirit to families and relatives here waiting to hear from them.
An interesting experiment was tried out on the Thursday evening between Peter Doswell and Margaret Hurdman in the second half of
the night as they shared the same link, this worked well and showed how comfortable they both were with working together.
An interesting book that Margaret Hurdman has written about her life experiences and how she became a working medium was on sale during the interval priced
at £6 the book is titled "Margaret the Person living a spirited life
(ISBN 1-904440-52-5)" and Margaret was happy to sign the copies.
We look forward to many other evenings at the Temple where Dave Chapman, Peter Doswell and Margaret Hurdman will once again demonstrate their great
gift of mediumship.
David Manclark

----------------------------------------------------------------------------
check out the story page for more HISTORY OF THE TEMPLE

---
27-9-06
Maureen and I need your prayers please send out your healing thoughts
That the light of spirit will touch her with the wings of healing
Blessing to you all for your love
We thank you all for your healing
Because we know that the energy of love works
We are still asking for you all to place Maureen's name within the healing books from the different Churches, and centers of love
who are sending out healing thoughts
First of all I would like to thank you all
For the love you have and continue to send
Blessing of the great spirit be with you all
We have had a battle with this illness
we have had hard time and still are fighting this blip in life
The cancer has not spread to any other part of the body
But is growing
The tablet Tarceva has not worked
Please continue sending healing


I thank you all again from the bottom of heart
And to the light of spirit for always being there
Opening the door's for the treatment to commence
And giving Maureen the strength to go forward
----------------------------------------------------------------------------------------------------
Universal Family
Here at the temple we have built together a family spirit, the building of a church is more than bricks and mortar, the spirit of our temple is in you, the people, who enter through the doors, coming into a place where unconditional love and understanding of one another has been witnessed by all who enter, a bond that has survived since the founders first opened the doors. For many our family is the only real family that one has. Our temple is a life-line to so many.
A most wonderful way to make a deeply felt commitment is by becoming a member of the temple. If you have been attending for a while and would like to become a member, the very small cost of membership is £5 for associate membership that is for 6 months, a time that allows you to settle in to membership then, full membership is £10 per annum, a very small cost when you consider how much you gain spiritually. Dues
for full membership is paid in January of each year.
Being a member of our universal family is fun, and we welcome all skills that serve the interests of our temple, making tea, writing poetry and songs, painting and decorating, flower arranging, gardening and anything else you can think of, just mention.
Becoming a member of the temple is easy, just ask for a membership form, fill it in with your name and address and return to me. You are asked to accept the seven principles. You will then receive a membership card that seals your commitment to Spiritualism and to our wonderful temple, it's that simple.
---
I'm looking for your spiritual stories to put on the site
Also your poems as well for others to read
Love and light David
---
FOR EACH AND EVERYONE OF YOU
WHO ARE SENDING HEALING
From all the souls of whom we know
From all the churches of spiritual love
We thank you for your continues healing
BLESS YOU
Maureen & David Chapman
---
I'm still waiting for your stories and poems
To place on the web site
For others to read (come on get writing)
---